Laura Geitz: Probiotics, Challenges and the Commonwealth Games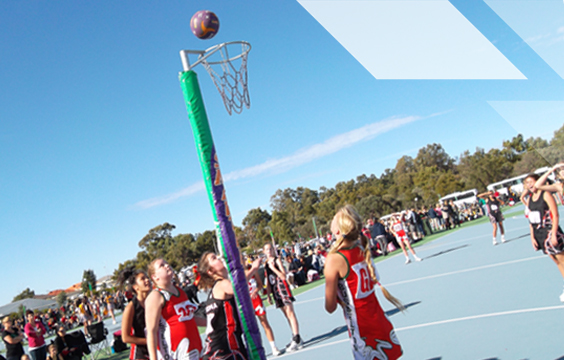 By Kerry Leech, AccSD and SDA Fellow.
It is an exciting time for Australian athletes with the opportunity to compete on home ground in the Gold Coast 2018 Commonwealth Games. For many athletes, years of preparation and experience have built up to this moment but there is much that fans and aspiring sport stars can learn from our elite champions.
To share exactly what is involved in preparing for international competition, we dived in to the archives for our chat with Australian Diamonds netball player Laura Geitz ahead of the 2014 Glasgow Commonwealth Games, where she captained the side to a gold medal.
Laura, this is your second Commonwealth Games what has your preparation been like for the Games?
Commonwealth Games preparation for the Australian Netball Team is different than for the Test matches that we normally prepare for during our international series. We are coming straight out of a heavy competition phase – ANZ Championships – some of us that made the Grand Final have only had a one week break before the [pre-games training] camp. We have needed to do our preparation for the Commonwealth Games during the competitive series. This camp has been about fine tuning as a team which we will finalise at our pre-games camp in Manchester.
What are your biggest nutrition challenges in this type of preparation?
I have to work hard at maintaining my lean muscle during a competition phase. I am naturally lean and it is an effort to gain muscle mass. I normally manage this well during pre-season but as we start to travel I can find this difficult. The support team around us this [2014] season, both Diamonds and Firebirds, have worked hard with me to ensure that the training program I am doing helps me to maintain it and then I have to make sure that I match my nutrition to my training program.
What has this entailed?
The biggest mistake that I make is not eating frequent meals – I am busy with both training and running my netball based business so I have to make sure that I make time to eat. This year it's been my goal to make sure that I eat regular meals, include protein with both meals and snacks. It seems to have worked well – so far I have been able to maintain my muscle mass through the season. The challenge for me now is the international travel.
What challenges do you see ahead?
I struggle with overseas travel and competing. Nothing is as good as home. We will all go home for a few days now and then will leave our home states to fly to Dubai where we meet up with the rest of the team, and then fly on to Manchester. To help with jet lag we have worked with Laura Juliff from the AIS recovery team on our individual sleep needs and how to minimise jet lag. Accredited Sports Dietitian Kerry Leech has helped us with our food and hydration selections but I still don't look forward to the long flights.
How do you plan to cope?
I will start with some probiotics before flying out, and will take my own snacks with me as I am a little FODMAP sensitive – more so when I am travelling, and I make sure that I am well hydrated but try not to overhydrate. I will use some Hydralyte during the flight to help with my hydration.
How do you find eating on tour and in hotels?
There are some upsides: not having to prepare your own meals—I am the cook in our household so it frees up lots of thinking, shopping and preparation time—not to mention no cleaning up after a meal. Actually that won't happen in Manchester; the team will not be staying in a hotel but in apartments and we will be preparing some of our meals.
Do you find that difficult?
No, it is great to mix it up. Our manager helps by organising supplies of the foods we like for breakfast and then we are in charge of our own food allowance – more like home. We don't have to make all our own meals – some will be team dinners at a hotel or we may go to a restaurant, we can choose to eat lunches in a café if we like but normally it is planned for us when and where we get to eat. As it gets closer to games the meals become more structured. Having a late game and then having to cook is no fun, so I like those meals that are ready for us when we get back to our accommodation.
After Manchester you will move in to the Athlete Village, how different is that for you and the team?
The Commonwealth Games are the only time we as Netballers get to live in a Village – on tour we are at hotels and for World Championships we are also based in a hotel so it is totally different.
Do you expect to be able to meet your nutritional requirements easily?
Yes, there are always heaps of choices available, as we have discussed, you just need to be disciplined in terms of making food selections that you are used to. Pizza for breakfast is an option but not one that I will be taking!
Are there any specific challenges you think you will face in this Commonwealth Games?
Yes, game timing. We are going to be playing most of our matches at 9:30am and 11:30am Glasgow time. Great for TV in Australia but none of us have played at those times or even trained at those times since we were under 10's. ANZ teams typically do most of their courtwork sessions in the late afternoon, early evenings and we play games in the afternoon or at night so we have had to practice different routines here in camp to get us ready.
What have you done differently?
Getting up earlier and having breakfast as the pre-match meal, using lunch as the main recovery meal and dinners as preparation for matches. Normally on a tour we would only play twice a week and ANZ once a week; at Commonwealth Games the most time we will get between games is two days. We will be playing three matches back to back so recovery will be really important.
What do you do for recovery in this situation?
Anything we can. The support team has drilled into us the most important things:
Sleep –a challenge in Glasgow due to the long hours of daylight
Nutrition – timing and types of choices
Hydration.
We will also do lots of physical recovery – massage, ice baths, game ready.
You mentioned sleep – do you find that difficult?
Always. Different beds, pillows, noisy, sharing rooms but the long days will be a challenge. We will be up early and the light may make it difficult to get to sleep at night. We have done lots of preparation for this and I know how to time my food and caffeine intake to promote sleep, and hopefully not overhydrate so that I don't have to get up while I am sleeping.
So there you have it – with a little bit of preparation, considered planning and timing your meals around your game time, you too could produce medal-winning performances on the court! We wish the Australian Diamonds team all the best in their Gold Coast 2018 campaign.