10 Tips from Australian Marathon Champ Jess Trengove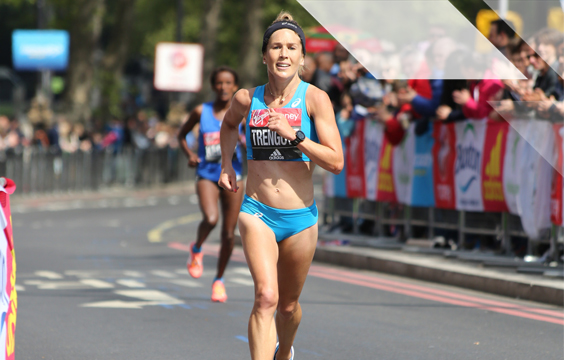 Most participants in any given marathon cover the second half of the race slower than the first, many slow down even more dramatically after the 32km mark, also known as 'hitting the wall'. Australian Marathon champ Jess Trengove (Glasgow Commonwealth Games bronze medallist) shares with us her top 10 marathon tips for race day success.
1. Communication
Communicate with your coach, physio or sports dietitian regarding how you are feeling in training and make any adjustments if necessary i.e. to manage fatigue or niggles. If you are self-coached, make sure you reflect on how you are responding to training.
2. Practise your race plan in training
Try and do a race-pace 30min threshold run (pace should be approximately 85% of your Heart Rate, or a pace you feel you could comfortably maintain for at least an hour). This will help you identify a realistic running pace for your marathon. It's important you don't start out too quickly, 42km is a long way and once you 'hit the wall' there is very little you can do to avoid slowing down!
3. Recovery, Recovery, Recovery!
Training adaptations can only occur if you recover with the right fuel (food and fluids) after training. A banana and yoghurt is one of my favourites.
4. Rest
Place emphasis on rest in the weeks leading up to the marathon. Meet your sleeping needs to ensure that you absorb training and go into the race feeling better than ever.
5. Practise your race day nutrition strategy
Training sessions are perfect to trial your pre-race meal, caffeine, hydration, and fuelling within the race. You don't want any tummy upsets on the day to ruin your performance.
6. Gels
Only use gels if you've practised consuming these at race pace beforehand. You also need to determine how you will carry these in the marathon.
7. Cheer squad
If you like to have support during the race, pick out locations along the course where you would like people to cheer for you. If you are aware of a particularly challenging point in the marathon, I would recommend positioning people there. Words of encouragement and cheers can be very motivating!
8. Respect the taper period
Reduce your weekly mileage, and don't do any more long runs (>60min), you will just make yourself tired. You should be focused on freshening up rather than trying to make fitness gains. Have faith in your preparation and see race day as an opportunity to reap the benefits of your hard work.
9. Wear comfortable clothing on race day
Always wear clothes that will avoid chafing, and please don't wear a new pair of shoes, otherwise you might be struggling with a big mid race blister…ouch!
10. Sleep
Don't be too stressed if you have poor quality sleep the night before the race – nerves sometimes cause this. If you've rested well over the past 10 days, one disrupted sleep will not make a difference.
Lastly, make sure you have fun and enjoy the experience!
– Jess