How to Stop the 'Hangry' in Active Kids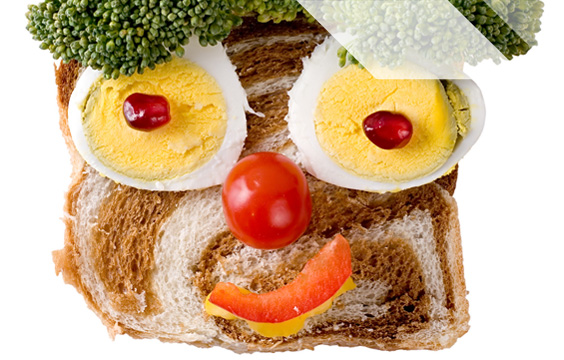 Even kids get 'hangry' and when it hits it can be tough getting the right food in. Active kids are always on the go, have small tummies and can be fickle with a short attention span, so getting in adequate nutrition is a mix of not only tasty foods, but accurate timing and smart delivery.
Active kids require energy for growth as well as extra energy for their physical activity. This energy needs to be obtained from foods that also provide nutrients, instead of just 'empty calories', so take advantage of every snack to make it count nutritionally. You can do this through nutrient-dense foods—like wholegrain breads and cereals, fruits, legumes, nuts, vegetables, fish, and lean meats—and a little preparation ahead of time.
Choosing easy fuel for active kids
Finger foods
Bite size snacks are easily transportable and easy to eat in the car or on the bench waiting for the next activity. If kids can grab it with their hands and pop it into their mouth straight away, then it's more likely to be eaten. Try:
Mini homemade sausage rolls, quiches or frittatas
Sushi hand rolls
Finger sandwiches
Bite size cold meats or cut up leftovers, eg baked chicken, baked tofu, cooked breaded chicken tenders
Cut up vegetable sticks, cold cooked broccoli, cherry tomatoes
Cut up easy fruits, watermelon wedges with skin on, apple pieces, oranges(peeled), banana, grapes, berries
Plain boiled pasta
Cheese and crackers/muesli bars
Yoghurt tubs
Mini muffins
Dried fruits, nuts, and seeds
Crispy baked chickpeas (eaten like crisps!)
Vegetables
Offer cut up vegetables as the snack on the way home. If they are really hungry, they will eat them! Then offer the other part of the meal when they get home, e.g. if it's meat and 3 vegies, offer two vegies first and then at home offer the last veg and meat at the table.
If vegies are a struggle, you can hide them in the foods made at home, e.g. vegetables in the sausage rolls; chopped finely or pureed into sauces for lasagna, pasta, etc; quiches or frittatas. See our recipe archive for suggestions.
Smoothies
Smoothies are quick, very portable, and are an excellent opportunity to add in some extra nutrients, where required. Using either milk or fruit as a base, it offers hydration as well as carbohydrates and some protein.
Use this opportunity to also add in some protein by adding in nuts such as cashews, almonds or silken tofu, or milk powder. Seasonal fruits add carbs and sweetness but also add some fibre too. A chopped raw beetroot can add some extra fibre and colour, and a little bit of lime and a frozen banana adds sweetness and texture.
Key considerations
Storage and transport
Thermos bottles and food jars keep foods hot or cold for many hours. You could also try a good quality insulated lunch bag/box, zip lock bags, reusable containers, freezer blocks or frozen water bottles.
Textures
If food is too dry, too chewy, too large, or too fiddly they are less likely to be eaten. Cut and serve foods into manageable sizes that easily fit into the mouth or hand. Stews and braises can be easier to chew, and sauces can make foods less dry and therefore easier to eat.
Top tips for busy families
Having meals at the ready upon arriving home can keep 'hangry' children at bay. You can do this by:
Having portion-friendly foods ready in the freezer for time-poor moments, e.g. minute steaks, flat frozen and stacked.
Cut up and wash vegetables ready to cook in the fridge. Then steam/stirfry/bake/assemble into a salad as you wish.
Use gadgets. Rice cookers, pressure cookers, thermomixers and slow cookers can be useful for cooking and also keep meals warm until you get home.
Marinate/prepare food the night before and store in the fridge. In the morning before leaving for school/work, pop the ingredients in a slow cooker to cook while you are out.
Have pantry staples such as pasta, rice, tortillas, and taco shells ready.
Bulk cook and store foods in ready to serve portions (fridge/freezer).
For particularly fussy and active kids, or those at risk of protein energy malnutrition, an Accredited Sports Dietitian can help manage their food preferences and match their high energy needs.
To download one of our Fuelling Active Kids booklets for your child's sport, refer to our Children & Adolescents factsheets.