How to Build the Perfect Sandwich for Performance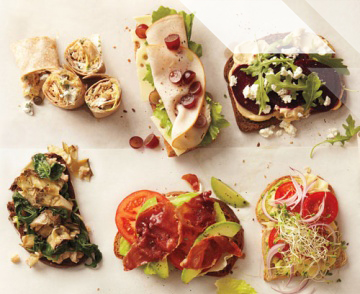 Whether you're fuelling for a competition or recovering from an intense training session, a sandwich is the perfect 'throw together' snack or meal for active people.
Easy to make, adaptable to any ingredients on hand, and easy to throw in your sports bag for convenience, these 5 simple guidelines will have your nutrition needs covered for both pre and post training.
1. Choose a smart wrapping:

Whether you choose bread, a roll or a wrap, ensuring it is wholegrain will boost the fibre content of your sandwich. The only exception to this may be if you are susceptible to stomach upsets or 'runner's stomach' during training, in which case lower-fibre white bread may be more suited for a pre-event snack.
2. Select your spread:

While butter and margarine do a great job of livening up bread, there are plenty of other choices that not only taste great, but also come out on top when it comes to nutrients. Try mashed avocado, hummus, ricotta or cottage cheese, pesto, roasted pumpkin, mustard, tahini or nut butter for an array of sweet and savoury options.
3. Pick your protein:

Ensuring you include a good quality protein source in your sanga will be beneficial for muscle repair and maintenance. For carnivorous options, look for lean meats like poached or barbecued chicken breast, roast beef, lamb, or tinned tuna, salmon and sardines. Meat-free options can include cheese slices, ricotta or cottage cheese, boiled or pan fried eggs and vegie patties made with beans or legumes like chickpeas.
4. Layer on the vegies:

You've heard it before, vegetables are essential for good health, yet very few of us manage to fit in the recommended 5 serves a day. Fitting in a couple of serves at lunch or snack time makes it a little easier to meet the target. While common sandwich choices like lettuce leaves, tomato and cucumber slices are great, be adventurous with whatever you have on hand. Some other ideas include: capsicum, grated carrot, beetroot, spinach or rocket leaves, roasted pumpkin, sweet potato, zucchini and eggplant.
5. Tweak to taste:

Though it may seem complete, this is where you can make additions to your sandwich to suit your individual taste. For savoury sandwiches, this may mean adding cracked black pepper or fresh herbs like basil or parsley. If you've crafted a sweet creation, experiment with add ons like dried cranberries or walnut halves.
Try these sandwich creations!
Wholegrain bread spread with ¼ mashed avocado and 1 tbsp. ricotta cheese, topped with tomato slices and torn basil leaves.
A wholegrain roll filled with cottage cheese, lean turkey breast, a handful of rocket leaves, dried cranberries and a few walnut halves.
A wholegrain wrap spread with hummus and pesto, and then layered with slices of barbecued lamb and roasted pumpkin, capsicum and eggplant.
Ricotta cheese on wholegrain bread, sprinkled with grated carrot and a handful of sultanas.
For more ideas and sports nutrition meals, see our Recipes archive.