Where can the SNC Course take me?
The SNC Course opens up a range of opportunities for dietitians wanting to pursue their passion of working in sports nutrition.  Reid Reale, SDA member and now an Advanced Sports Dietitian, shares his journey with you below.  Reid's story is but one of many from our members who have pursued various pathways since completing the SDA SNC 4-day course.
I've always had a keen interest in sports nutrition and hoped to someday work in this field. Throughout my undergraduate degree, I studied as much sports nutrition and exercise science units as possible, however, being pragmatic, I thought I'd better keep all options open and made sure to complete the population health and clinical studies required for entry into the masters of dietetics. I knew I could (at least have a better chance) of securing employment as a dietitian in a hospital or private practice if the sports route didn't work out.
Following graduation from my master's degree, I knew I wanted to complete the SDA Sport Nutrition Course (SNC), however, wasn't sure when and put it off initially. After working for a little over a year in the corporate health field, I finally made the trip to freezing Canberra to complete the SNC at the Australian Institute of Sport (AIS) which was really great; if not for the physiology/nutrition content, then definitely for the opportunity to gain insights into the application of sports nutrition and sport science principles from leading Sports Dietitians.
In addition to learning some practical tools and key insights, the networking I engaged in during those 4 days proved to be invaluable. Not only did I get to connect with many of Australia's (and the world's) leading Sports Dietitians, it was also brought to my attention (by another dietitian attending the course) that there was a PhD scholarship on offer from the University of the Sunshine Coast (USC) and the AIS, looking for a qualified Sports Dietitian to complete research investigating nutrition in Olympic combat sports. This was too perfect, as I am an avid Brazilian jiu jitsu practitioner, and better yet the role would involve working as a dietitian in the AIS Combat Centre, supporting Australian Olympic combat sport athletes.
During the 4 days I was in Canberra attending the SNC, I was able to set up a meeting with the Head Physiologist and Manager of the Combat Centre, introduce myself and find out more information about the opportunity. Furthermore, two of the Sports Dietitians presenting at the course were able to provide a reference for me (recognizing my passion for this area and desire to work in the field) to the Combat Centre Manager after only meeting days earlier.  So following completion of the SNC, I went back to work in Melbourne at my corporate job and submitted an application for the PhD Scholarship. A few months later I was invited to attend the AIS to discuss the opportunity and give a presentation on my ideas for a series of studies related to combat sports nutrition. Turns out I was successful and was awarded the scholarship, packed my bags, and moved to Canberra.
My time at the AIS was amazing and I developed my skills as a dietitian like I would not have been able to anywhere else in the world. I worked daily with Olympic combat sport athletes, attended professional development opportunities with world leading researchers and Sports Dietitians, and flew all over the world presenting at conferences and supporting athletes in the training and competition environment. During this time, I also took on more of a mentoring role than I had in the past, providing guidance to student dietitians, other sports scientists, and also presenting at the SDA SNC less than 18 months after completing it myself. Although it was perhaps the most stressful time of my life, trying to balance PhD research, servicing athletes, assisting the AIS nutrition, physiology and Combat Centre departments, my own training and trying to have a life (just kidding, I had no life); it was the time where I developed the most professionally, and I never thought I would grow as a dietitian / researcher in as short a time as I did.
In the final 6 months of my PhD, I began looking for employment opportunities. I always wanted to live and work oversees, and a role as a 'Senior Scientist' with the Gatorade Sports Science Institute (GSSI) at IMG academy in Florida was advertised; which honestly, I didn't give too much thought, and I simply submitted an application along with my current resume which I had been submitting for lecturing roles at Australian universities. Almost 10 phone and Skype interviews and 4 months later I was offered the role and headed Florida where I worked as an Applied Research Scientist, leading and supporting various sports science and sports nutrition projects as well as assist in athlete testing and servicing. Similar to my experience at the AIS, I was exposed to elite athletes, travel and professional development opportunities. I worked for GSSI for 2 years, during which time I was approached by the UFC and eventually offered the role as Performance Nutrition Manager at the UFC Performance Institute in Shanghai, China where I work now. This is role is absolutely perfect for me, given my personal interest in martial arts, as well as my PhD and subsequent research focusing on body composition manipulation and weight cutting in combat sports. The role started off exceptionally challenging, as myself alongside other foreign staff were tasked with setting up the worlds first ever mixed martial arts (MMA) elite training and performance facility, in a country where none of us speak the language. We have now found our way, and everyday I work within an interdisciplinary team with the goal of developing a fulltime academy of athletes and improving the quality of MMA in china. I get to apply the research I conducted during my phd, mentor junior staff,  practice and improve my skills as a manager and travel around China supporting our academy athletes as well as attend events around the world supporting UFC events.
I'm excited to see where the future will take me, but as for the past I can say that had I not attended the SDA SNC when I did, I wouldn't be sitting where I am today. I've worked hard, jumped at opportunities when they presented themselves and have no doubt experienced a lot of luck, but the impact of networking, making yourself known and attending the right conferences, courses and events cannot be understated.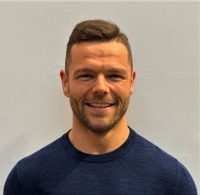 Reid Reale
Advanced Sports Dietitian