Sports Nutrition Essentials Course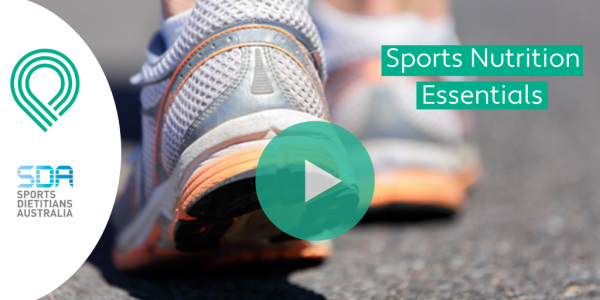 OVERVIEW
The Centre for Advanced Learning and Sports Dietitians Australia (SDA) have partnered to provide the Sports Nutrition Essentials course.
This course, developed entirely by Accredited Sports Dietitians, is delivered entirely online, and is open to all dietitians.
Participants undertaking this course will develop a fundamental level of theoretical and practical knowledge to allow for basic sports nutrition information to be given to clients in private practice settings including:
An understanding of the role of sports nutrition (carbohydrate, protein and fluid) for fuelling and recovery in sport and exercise settings
An awareness of the appropriate integration of sports supplements into a training nutrition plan for sports performance
The ability to identify situations where a client should be referred to an Accredited Sports Dietitian with specialist knowledge and expertise in the area of sports nutrition
Please note, at the completion of this short course, participants will not be considered to be Provisional or Accredited Sports Dietitians. Those wishing to become a Provisional or Accredited Sports Dietitian are required to complete the 4-day Sports Nutrition Course conducted by Sports Dietitians Australia (further criteria also applies – please see www.sportsdietitians.com.au for further information about the Sports Dietitian career pathway). 
This course is suitable for:
New graduates in Dietetics (Bachelor or Masters level) who don't yet meet the criteria to undertake the SDA 4-day Sports Nutrition Course
Accredited Practising Dietitians who are interested in exploring a specialisation in Sports Nutrition before committing to the SDA accreditation pathway
Accredited Practising Dietitians who need a base level of sports nutrition fundamentals to support the occasional athlete and to identify when to refer an athlete to an Accredited Sports Dietitian.
Leave this course with:
A fundamental level of knowledge to allow for provision of basic sports nutrition advice
Recommendations, guidelines and evidence based literature to add to your toolkit
Network of dietitians working in the field of sports nutrition
8 hours Continuing Professional Development (CPD). APDs can enter this under 'Professional Education' when course content aligns with APD learning goals (and remember to tick the 'Professional Competence' box in your CPD entry as well if the course has developed your skills, knowledge and expertise related to your area of practice – and that's our goal!)
30 SDA Career Development Pathway (CDP) points
Date of Next Course:
The live webinar component will be on 9 November 2022 at 8 pm (Canberra/Sydney/Melbourne time, AEDT). This session will be recorded and uploaded to the Learning Management System (LMS) for those who cannot attend live. 
Note: You will be uploaded to the LMS on 2 September 2022. Please download any materials you'd like to keep by the course deadline. 
Cost:
DAA member                    $399.00
Non-member                    $599.00
*Dietitians NZ members are eligible to receive the DAA members rates. Contact the Centre for Advanced Learning via learningcentre@daa.asn.au to obtain the coupon code  to complete the discounted registration.
Registration
Registration is online via the DA website. Please follow the following link to go to the registration page: 
Please click here to register for the SNEC.
*DA members need to logged in to access the discount rate.
*Dietitians NZ members use a coupon code to access their discount.