MEDIA RELEASE – NEW APPOINTMENTS TO SDA BOARD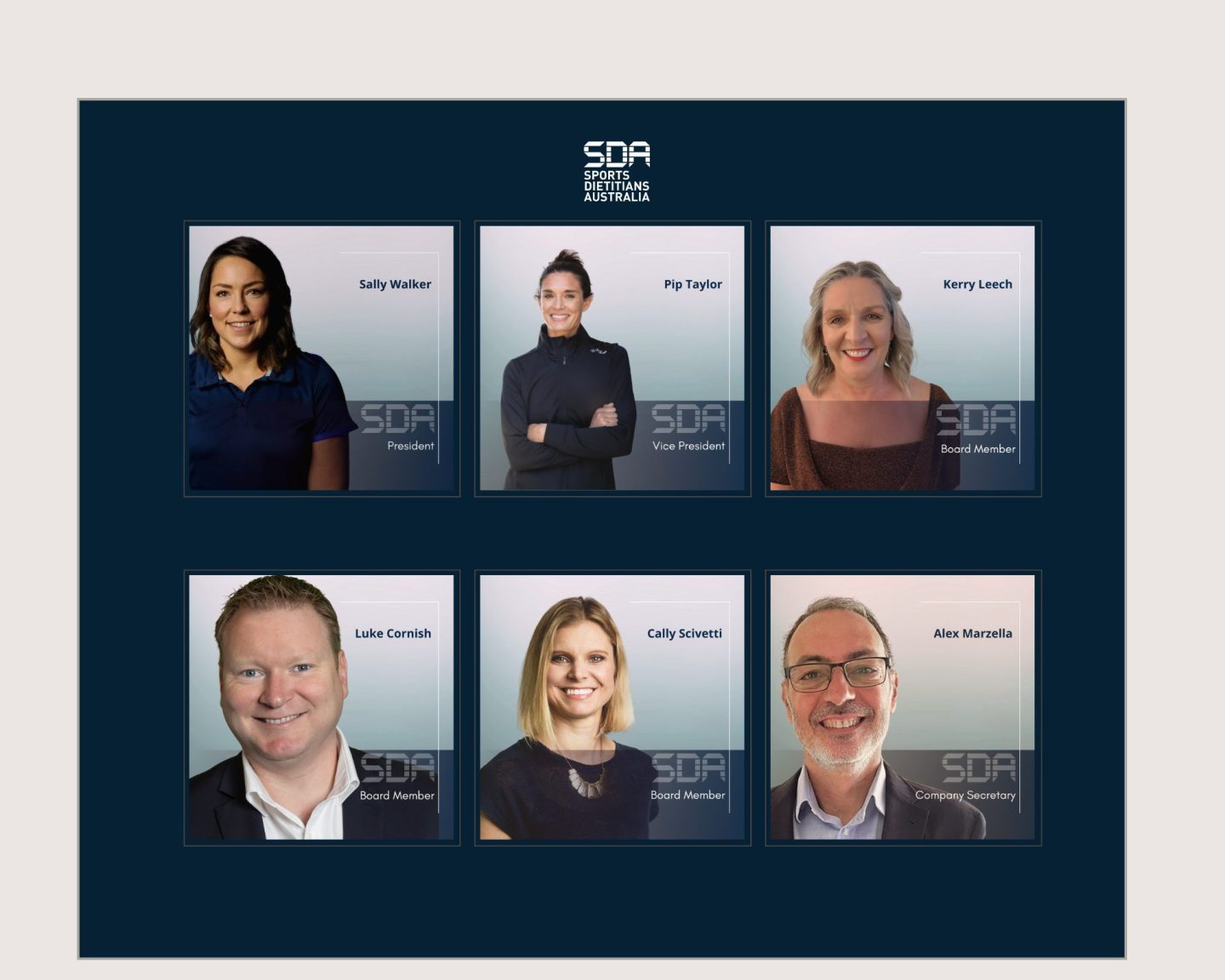 Following the recent Sports Dietitians Australia ("SDA") Annual General Meeting and Board Meeting, we are pleased to announce the following new appointments to the SDA Board:
Kerry Leech,SDA Fellow, BSc Grad Dip Dietetics, IOC Diploma Sports Nutrition, APD (Voted Director)
Cally Scivetti, GAICD, BComm, Marketing, (Appointed Director)
Luke Cornish,GAICD, BA Journalism & Communications, (Appointed Director)
We are excited by these appointments and look forward to working with Kerry, Cally & Luke to deliver on SDA's strategy, along with our existing board members – Sally Walker, Pip Taylor, Gaye Rutherford, Dominique Condo, Sally Anderson, Chris Fonda, and Alex Marzella.
In particular, SDA would like to thank Gaye Rutherford and Dom Condo for their immense contributions to SDA in their roles as President and Vice President for the past two and four years respectively, and are pleased that both continue as active Board members for SDA.
With the conclusion of Gaye and Dom's tenures, we are pleased to announce the following Office Bearers for the next term:
President– Sally Walker
Vice President– Pip Taylor
Company Secretary– Alex Marzella
Sally brings a deep understanding of high-performance sport having worked with athletes from a wide range of high-performance and professional sports. Her role as Australian team dietitian has allowed her to successfully implement strategies to advocate for, and change the presence of nutrition in high performance sport in an Olympic and Commonwealth Games environment. "These roles allowed me to be a voice for the network of dietitians doing great work with our Australian athletes and to create an environment to showcase the work being done. I hope to continue this drive to support SDA's sports dietitians to recognise and empower our members and community to take performance to the next level."
"I'm excited and honoured to be chairing this board with such a strong group of experts offering a wealth of ideas, experience, and perspectives to contribute to the direction of SDA. With a shared interest in the growth of SDA and passion for the impact of good nutrition on health and performance for all, I'm confident we will be making progress forward for our members and community."
"The members of our committees, sub committees and board members are all contributing so much of their skills and expertise to give back to SDA, and Marie Walters and the HQ team work so hard to bring our strategy to life. I feel fortunate to have Pip Taylor as Vice President and Alex as Company Secretary and look forward to working closer with them both and the entire board with a special thanks to Gaye for leading us for the past two years."
Pip is on her second term with the SDA Board, and brings a wide breadth of experience with her – currently being engaged with the Asset Strategy Program Team of Crown Lands NSW in a senior state government role, and with Pillar Performance as a Performance Dietitian. Pip, a former professional athlete herself, also has previous experience in a high performance setting, working within professional teams and with individual elite athletes. Pip has experience in the private sector and also has a communications background working across different media platforms.
"I feel very positive about the direction of SDA. The Board has a great mix of experience, as well as fresh expertise and perspective, which in addition to the hard work being undertaken by SDA staff, will future-ready the organisation and serve members in new and innovative ways."
Lastly, new appointments to the Board also sadly means that we farewell three valuable Board members:
Ali Disher
Jo Mirtschin; and
Paulo de Souza
Ali Disher has served on the SDA Board for an extensive seven-year period and we thank Ali immensely for her insights, time and wisdom that she has provided to SDA over those years.  We thank Jo for her sound, steady and insightful contributions to the Board since 2018 and we also thank Paulo de Souza for the two years he has contributed to the SDA Board.
We look forward to working with the Board over the coming year to progress SDA's strategy forward.