Tour de France Nutrition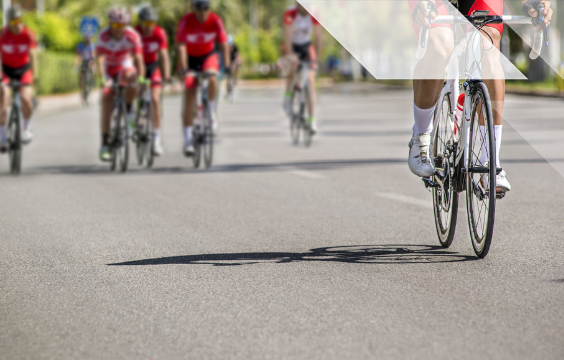 It's July again. If you live in the southern half of the country it's freezing outside. It's dark more than it's light. But that doesn't matter because many of you are indoors, awake in the middle of the night, watching 180 cyclists race around the French countryside in the peak of the European summer.
But those with an interest in sports nutrition aren't content to note the various wine regions and history of medieval chateaus, you're probably more interested in what riders are eating and drinking, both on and off the bike.
Let's start with some numbers.
The 2016 Tour de France is run over 21 stages including 9 flat stages, 1 hilly stage, 9 mountain stages and two rest days. The total distanced covered over the 3 week race is an astonishing 3519km! This year each road race stage varies in length from 113 to 237km, and will take riders between three and six hours depending on the distance, terrain and tactics. There are also two individual time trials in 2016, on 37.5km and the other 17km. These are much shorter in duration and may well decide the winner of the yellow jersey when the peloton rides into Paris.
Nutritional Challenges
There are three main nutritional challenges for riders in Le Tour. Obviously the first aspect is to optimise performance on each stage. Secondly, riders need to maximise recovery from one day to the next. And thirdly, over three weeks of racing it's important to try and eat as much or close to the amount of energy (kilojoules or calories) that your body uses each day. Failure to do this can result in a large energy deficit, which can result in poor performance and a compromised immune system in the second half of the race.
So how much energy do riders use each day during the race? Studies have found typical daily expenditures are around 20,000-25,000 kilojoules a day, but can be as high as 35,000kJ (around 8,000 calories). The exact number varies depending on the size of the rider, the stage length and terrain, whether a rider is in the breakaway or working to bring it back, or just sitting nicely tucked into the peloton.
During each stage of the Tour, riders will typically eat at least 8 grams of carbohydrate per kilogram of body weight – much of that is eaten on the bike. Based on research over the last ten years, riders now typically aim to consume up to 90g of carbohydrate every hour on the bike, although this is not always practical depending on the weather, terrain and tactics.
Eating and Drinking on the Bike
The foods and fluids eaten by riders varies slightly from one team to the next, but follows the same basic formula, all designed to maximise carbohydrate and minimise fat and fibre. Each team has a particular brand of sports drink provided by their sponsors. The quantity required for a team of nine cyclists means that sports drink powder is the only form that can be practically transported. Think about making up your own drinks for a ride. Now imagine having to prepare between 150 and 400 bottles of sports drink from powder every morning for three weeks! You really have to feel for the poor soigneurs who have that job.
As well as sports drinks, teams provide energy gels and bars for quick and easy consumption when the race demands it. But they also use a variety of homemade goodies to add some variety and prevent flavour fatigue – the feeling you get when you eat nothing but sweet, sticky and strong flavours all day, every day. Alternative foods include bananas, bread rolls with ham, cheese, jam or honey, cans of Coke, and a variety of hand-made foods that were first popularised by the American teams, using the recipes invented for the Feedzone Cookbook and Feedzone Portables. For a sneak peek into the feed bags of various teams from a previous Tour de France, check out this video from the Global Cycling Network.
Post-Race Nutrition
What many people don't realise when they watch cycling stage races is that there's often a lengthy bus ride that awaits the riders after each stage. After having a shower and getting changed (plus any drug testing or media commitments they're required to complete), riders can face hours on the bus to get to their hotel, situated close to the start of the following day's stage. This means that dinner is often not until 8 or 9pm. Because of this the immediate post-race nutrition is provided on the team bus, and consists of items such as protein shakes, rice with stir fried meat and vegetables, soft drinks, sports drinks, fruit and coffee and tea. Team buses themselves are quite incredible – here's a tour of the Orica GreenEdge bus, made famous when it got stuck under the finish line gantry in Stage 1 of the Tour in 2013.
Once riders return to their hotel for the night, they'll get a massage and head down to the hotel's dining area for dinner. This is where pro cycling has seen one of the biggest changes in recent years. Until about five years ago teams relied on hotel buffets to provide dinner. The problem was the hotels often didn't provide the food that the team's nutrition staff wanted, the quality wasn't reliable, teams would be competing to get to the buffet first, and there was always the risk of food poisoning. Nowadays all but the smallest teams have their own chefs, who either take over part of the hotel kitchen to cook in or use their own kitchen truck, a giant commercial kitchen on wheels. Check out the inside of Team Sky's kitchen.
This new era of chefs has resulted in cyclists in the Tour enjoying an almost fine dining experience every night, with food that's created by the chefs in consultation with their nutrition colleagues. There is a focus on variety as well as nutritional composition, because in a three week race the little things like dinner can make a big difference to the riders psychologically. Many riders also experience gastrointestinal problems in the latter stages of a grand tour, which further adds to their difficulty in consuming enough energy. Having their own chefs also helps to produce food that's easy to eat when you have minimal appetite, and easy on the stomach.
Other teams get all fancy the night before rest day with the food. we keep it simple with steak tartare #OGEeats pic.twitter.com/0LF6kJvHvq

— Nicki Strobel (@Nicki_Strobel) May 22, 2016
The following morning's breakfast is a mixture of porridge, cereals, toast, juice and smoothies, but also omelettes with rice and even pasta for some teams. Really anything that's easy to eat and provides a combination of carbohydrate and protein for the day ahead. Then it's back on the bike to do it all again.
The Team Solution
So next time you sit down to watch a stage of Le Tour, have a closer look at what the riders are doing, and spare a thought for the incredible amount of work that goes on behind the scenes to keep the riders fuelled, healthy and happy. The travelling circus that is the Tour de France is a great nutritional and logistical challenge, one that's being solved not only by sports dietitians but a highly organised team of soigneurs, chefs and even bus drivers!
Follow Orica GreenEdge chef Nicki Strobel on Twitter to see what the riders are eating.