SDA Non-Executive Director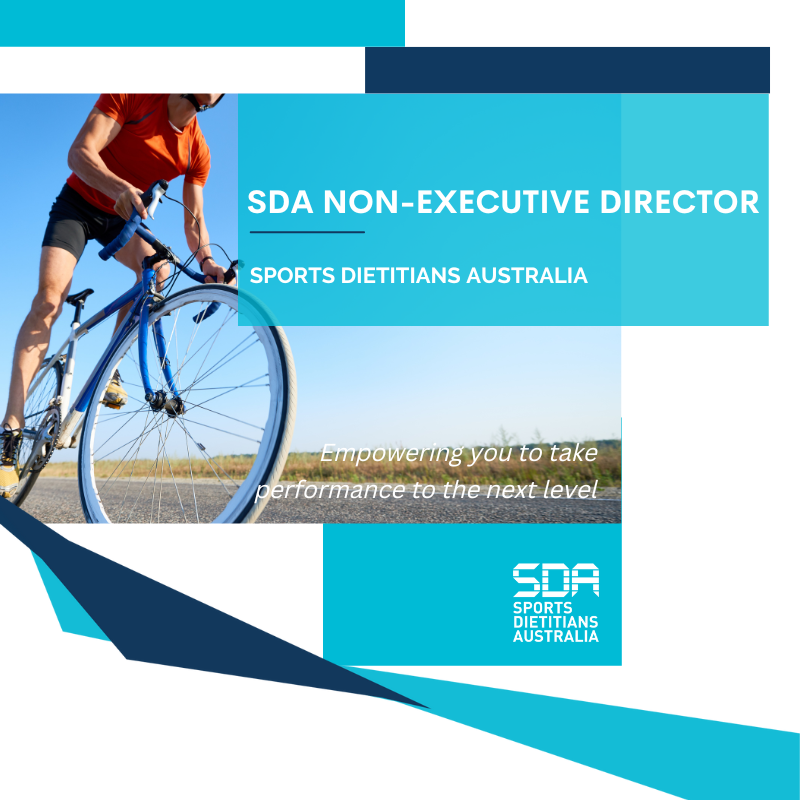 SDA is recruiting for an appointed Non-Executive Director
Combine your love of sports with your love of business!
Join an engaged and collaborative Board
Location: flexible within Australia
The SDA Board is charged with the strategic direction and governance of a motivated and dynamic profession that specialises in evidence-based sports nutrition.  With a constantly evolving landscape in which our members work, SDA is specifically seeking a Board member with strategic expertise in commercial settings with particular experience in one or more of the following areas: advocacy, marketing, partnerships/fundraising or legal.  If this sounds like you, we would love to hear from you!
Founded in 1996, Sports Dietitians Australia is the peak body for sports dietitians in Australia. SDA provides the credential for dietitians to specialise in the practice of sports nutrition, a credential that is highly regarded both in Australia and overseas. SDA has ~580 members who work in settings ranging from elite/professional level through to grass roots sports. SDA has a turnover of ~$450,000pa with the primary sources of revenue being membership, education and select sponsorship arrangements.
SDA seeks to appoint a non-executive director which encompasses:
attending approximately 8 Board meetings, an annual 2-day strategy weekend (usually held in Melbourne) and serving on at least one Board committee or project each year. Some interstate travel is anticipated if residing outside of Melbourne.
The role may require attendance in monthly conference calls for management/financial reporting and general compliance issues.
Be informed about and committed to SDA's vision, strategic goals, policies and programs.
Review the agenda and supporting materials prior to Board, and Project meetings.
Monitor SDA's budget and financial performance to ensure solvency, financial strength and good performance.
Offer to take on special assignments of the Board or a particular project.
Participate in planning sessions and attend SDA functions.
Directors must at all time act honestly, in good faith, and to the best of his/her ability in the interests of SDA (fiduciary responsibility).
SDA is open to considering applications from those who may be seeking out their first Board role but meet the skillset required.
The full position description can be accessed here.
To discuss or for any queries, please contact Marie Walters, Executive Officer, mob 0416 188 246 or marie@sportsdietitians.com.au
Applications close COB Friday 21 October 2022